The BBC Documentary 'Why Buildings Collapse' reflected upon the tragic collapse of the Champlain Tower South in 2021. Although mostly based in Florida, the programme brought the issue into a UK context and firmly focused on the Scottish housing quality crisis. In this blog post, we explain some of the critical issues affecting tenements, their owners, and what work has been done to help keep tenement buildings standing strong.
Tenements on the brink
Scotland has an estimated 579,000 tenement properties, forming 24% of all domestic housing. Yet over 50% of pre-1919 buildings face disrepair to critical elements, including the walls, floors and roof. Damage to these elements can make tenements unstable, both internally and externally, and this instability can make tenements dangerous to their inhabitants and the wider public.
Buildings that are neither wind nor watertight, cause many residents to live in cold and damp conditions, putting them at greater risk of experiencing fuel poverty and the resultant health risks. In addition, costs to repair these issues can quickly add up, especially if traditional building methods are required, which could lead to increased financial pressure and stress on the owner. Falling debris from tenement buildings has also sadly caused fatal injuries to the public, and it seems more tenement buildings than ever are on the brink of collapse.
Organising repairs
Owners of tenement flats have a duty to maintain the parts of the tenement that provide support and shelter. However, many owners can find aspects of tenement management hard to understand and, despite best efforts, many owners cannot organise necessary repairs to their buildings.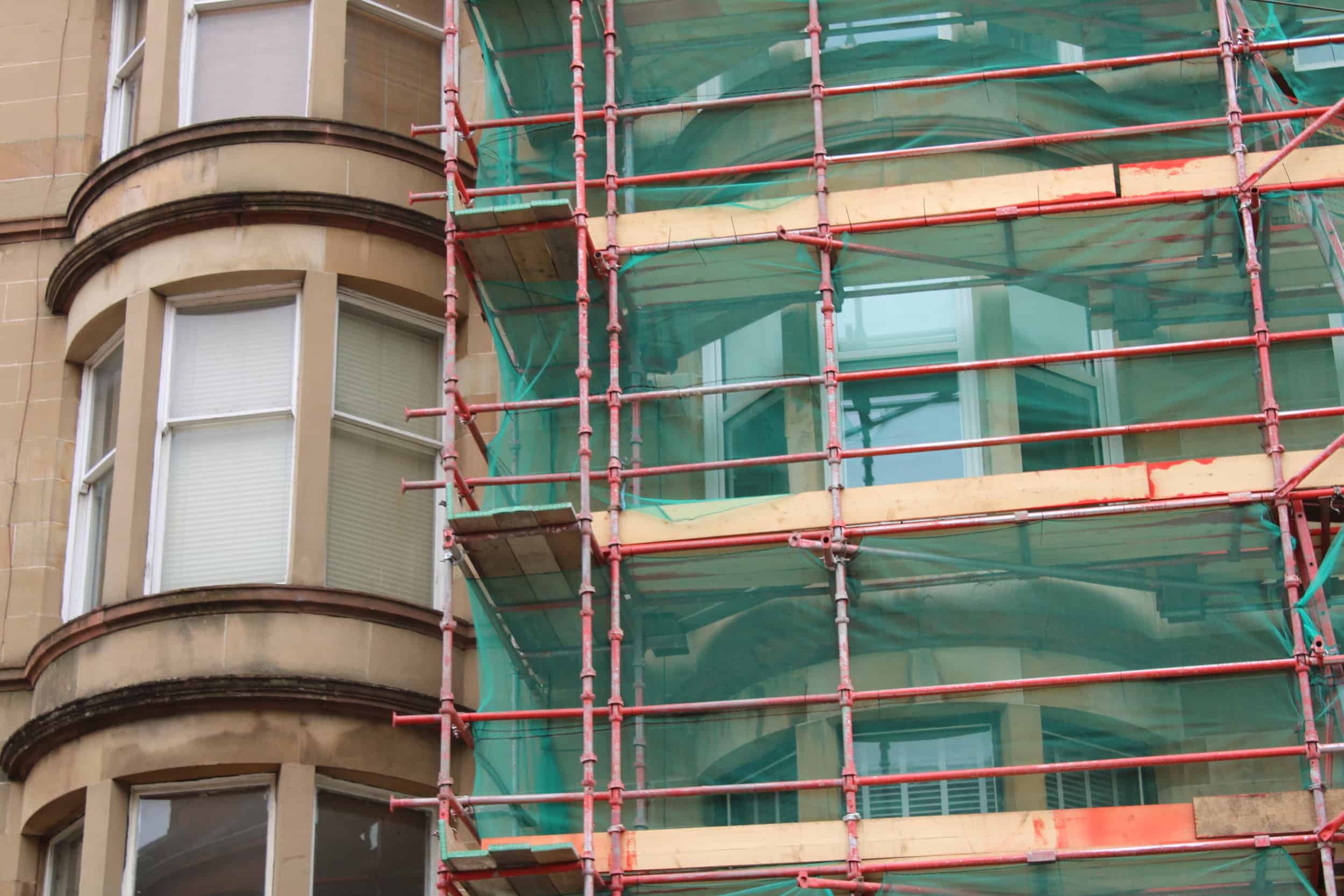 One major hurdle that proves challenging is understanding the title deeds. Owners can find that their individual title deeds state different rules and regulations to the rest of the block, making them 'unworkable'. Tenement owners need to consult the Tenements Act (2004) for clarification when this occurs. However, simply locating and understanding each owner's title deeds can be a lengthy process, which inevitably delays any repair.
There are also cases where the owners cannot agree on which repairs to carry out. When voting on common repairs, a majority vote is required to carry out the work; a tied vote does not count as a majority vote. This can be very frustrating, especially when the repairs are urgently needed. Owners can consider invoking the Duty to Maintain if the repairs are urgent, or an owner can seek independent legal advice.
Some owners in a block may live abroad, or commercial outlets with complicated ownerships may occupy other flats in the building, which makes organising and voting on repairs even more time-consuming. There are resources to help trace absentee owners, including searching the Scottish Landlord Register, the Land Register, or working with an Empty Homes Officer. However, a delay in organising a repair can lead to increased expenditure further down the line.
Cost of repair
Ailsa Macfarlane, Director of Built Environment Forum Scotland (BEFS), was interviewed as part of the programme and said that there needs to be recognition of the vital role our existing buildings have in helping to meet net zero targets.
For tenement buildings to meet these net zero targets, it is of vital importance that owners of tenement flats are supported in improving the overall condition of their buildings, as they must first be structurally safe and stable before larger scale retrofit work can take place.
It has been proven that tenement buildings can be made sustainable, as evidenced by the Niddrie Road Project. However, these initial repairs can be expensive for the average flat owner, especially if no other financial support is given. The high cost can make carrying out repairs impossible for many owners, especially during the current cost of living crisis. There are currently minimal amounts of financial support for owners carrying out repairs, forcing many to pay out of pocket or be unable to pay at all. 'Why Buildings Collapse' highlighted the story of a tenement block in which each flat had been quoted upwards of £80,000 in repair costs to keep their building from total collapse. This is sadly all too common, and tenements across Scotland are facing unaffordable repair costs and having to occupy unsafe buildings as a result.
The future of tenement maintenance
The programme highlighted three recommendations by the Tenement Working Group that were designed to improve the condition of tenement buildings and lessen the burden of maintenance costs on homeowners. The recommendations include mandatory building inspections, building reserve funds and owners' associations. Each of these recommendations are designed to help owners of tenement buildings better understand the condition of their building and work collaboratively with their co-owners to improve the quality of their building. Although these recommendations continue to be discussed, owners can start putting them into practice today. By forming an owners' association and starting a building reserve fund, owners can have tools and funds to act swiftly to prevent further damage and organise repairs.
Tenements have provided warm and safe homes for over a century for Scottish residents. Their large bay windows, high ceilings and historical features make them well-loved landmarks of Scottish towns and cities. However, additional support and education in tenement maintenance and management will be vital in preserving these unique features of Scottish history, ensuring that Scottish homes are stable and ready for the future.